The Wall
Photos are of the churchyard at Hindley/Broomley villages up above Stocksfield; Zeppie desecrating the area [Robin: to be fair, he thought you said desiccated]; Auntie Hilda's tomb stone; also one pertaining to be my grandparents (Dickinson), wrong christian names but dates virtually correct. Lastly myself (Nana) outside my grandparents' house, called Mindrum.....Mount View Terrace, Stocksfield. Do not know why the house is named thus.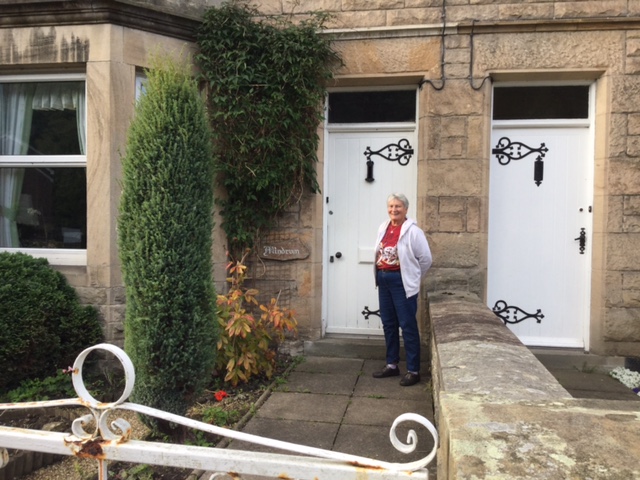 Well, such a busy day and again, long driving for Robin.
We were at The Hadrian's Wall campsite, nr Haltwhisle, had packet porridge which was meant to be cooked in a microwave, but as we don't have one of those new fangled things, we mixed packets with milk, added boiling water and had it that way. It is meant to expand before we eat it but I think in our case it was after......think what you like!
We drove off the site having booked two nights but stayed just the one and drove off to Corbridge to find somewhere for breakfast.
Found a lovely tea house for breakfast and then headed to Stocksfield to see my grandparents' (Mary and William Dickinson) old home...it just looked the same...with updated glazed windows etc. The people who bought it in 1984 after Auntie Hilda Dickinson died are still there. The garden in the front and over the road still has vegetables growing there. We wandered around the back of the row of 4 terraced houses and I saw a friend Mary McGregor and her husband. She was so surprised and pleased to see us and we had a good chat. When my Aunt was alive and in her early 80's and losing her strength Mary would go into her with plated meals and make sure she was ok. She must be in her late 60's now. Such a kind lady.
Midday we drove behind Stocksfield and up to Broomley/Hindley villages where the grandparents and Hilda are buried in a small churchyard. It is consecrated ground but the little church is now a house. Thus Zep(pee)...deconsecrated the ground!! Ideal name for a dog who does this kind of thing. The graves are all well looked after but having found Auntie's grave, the two other Dickinson ones have the wrong christian names though death dates seem accurate. Something to check when I get home.
While we were in the area we saw a small family group of heavy horses and took photos. Two young ones were there...so beautiful.
After this we crossed the River Tyne at Stocksfield to visit the local Bywell twin churches where the funeral services were held before relatives were buried up at Broomley. There I found addresses to where I can write and check the burial info. Such a nostalgic trip.
As I came to the UK as a 12 yr old I had never met any of my family. I stayed with Grandma and Hilda for 9 months while my Dad looked for work. They were unused to a youngster being around but were very loving and kind and my memories are happy ones. I showed Robin where myself and some local kids used to go under the local bridge and swim on hot summer days in the Tyne.
[It is beautiful; idyllic]
Also I got a Steam train to school into Newcastle every day and still remember flying down to the station , always late, on my bike. Dump it anywhere and the stationmaster always had about 6 bikes to sort out. Then we rushed across the track with the engine driver telling us to hurry up and threw our satchels into small 6 seater carriages. On return at night we always found our bikes neatly stored by the station in a shed. Those were the days.
I had phoned John and Dora Simpson (my only cousins), who live in Wetheral nr Carlisle, in the morning and arranged to meet them for dinner that night. After this huge amount of nostalgia Robin and I opted for a camping site nearer to them. We drove for about 2 hours across the northern area of Northumberland, crossed into Scotland, and then back into England again. Lovely countryside with valleys and mountains.
Our next site was called "Dandy Dinmont" camping nr Carlisle, Cumbria. Such a weird name. Very small and pretty with some static vans and good showers.
To the uninitiated (me) West Cumbria boasts Hadrian's Wall and Roman occupation of Britain, The Mutiny on the Bounty, The Slave trade, George Washington, William Wordsworth and Mary Queen of Scots. Amazing.
We met up with John and Dora at The Fantails Restaurant in Wetheral. So good to see them both and they were delighted, especially John, to chat with Robin. Such a lovely evening. We then drove back to the campsite. "Dandy Dinmont, Dandy Dinmont, Dandy..." Sorry.
I have forgotten to mention how we have managed for sleeping arrangements. Well, the first night was very wet underfoot and Rob was tired so we sorted out the table and seats as a bed... in the van... Rob took that and I had the huge bed. The criteria was maybe having to get up for the dog, (which we didn't have to) and how many times we got up for a wee. Also who would physically climb in and out the least times, thus less trampling on each other. Without going into too much detail it worked well, although we both kept waking up between 4-5am, and then drifting off again. Last night Rob made a cuppa at 4am and we fell back to sleep. Very hilarious. Fortunately we both seem very good tempered even at those hours.
The next morning we set off for the Glencoe area. Slightly drizzly then cleared. Beautiful drive through and over mountain passes towards the glens. Robin had read good things on a website for "cool camping" and we found The Red Squirrel site. No electricity, mostly no wifi, quite basic but so wonderful. Our heads are full of the sound of the stream/river which runs only 5 yards from our spot. We had a very windy and pouring rain night but the morning was calm, sun shining and morning mist rising off the mountains. Perfect. We had a toast, butter and marmalade/marmite breakfast and then went for a walk around the site near the bubbling water and watched the sun marking the hillsides and silver streams running down to join the river. We then enjoyed more tea and walked to a nearby pub with wonderful Zeppie for our lunch. We went on a path which wendered its way around the trees and brooks paralleling the road. Had a lovely lunch...me with red wine...and I walked back the easy route and Robin took a more scenic and rough path with the dog.
What a wonderful time we are having together. Still calm and no rain at 5.30pm and Robin is cooking sausages. Yum.